Competency Assurance Consultancy
CAMS Design and Implementation
Over the past 6 years GENCE has built a highly effective and successful Competency Assurance Management System (CAMS) that has been used to develop and train less competent employees for many industries including Oil and Gas.
Our partner's main objective is the recruiting and development of local nationals to perform jobs to international competency standards. This results in permanently lowering operating costs and makes sustainable, and long-term contributions to the growth of the host country.
Through this process, GENCE has the ability and capability to assure our partners that each employee is trained to meet the competencies specified in the approved competency model for the job. The process can also be used to identify competency gaps of experienced employees and define custom training programs for each individual to eliminate any deficiencies. and define custom training programs for each individual to eliminate any deficiencies.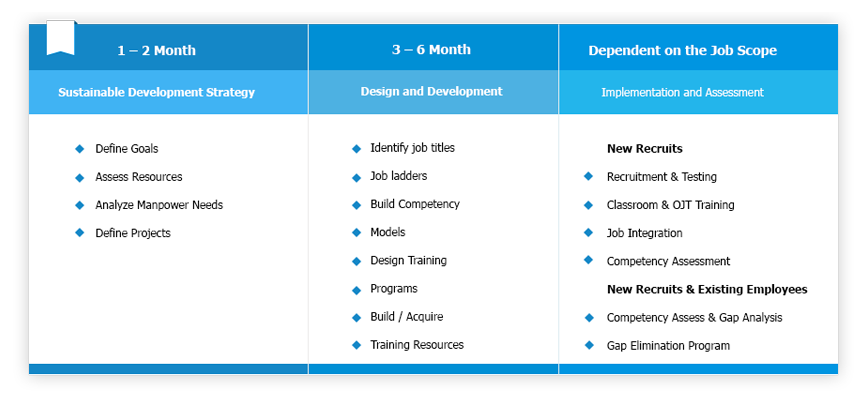 The CAMS Process
GENCE Consultancy and Training Services in strategic partnership with M&O group have developed a flexible and innovative process for design and implementation of Competency Assurance Management System (CAMS). The process is illustrated in the figure below: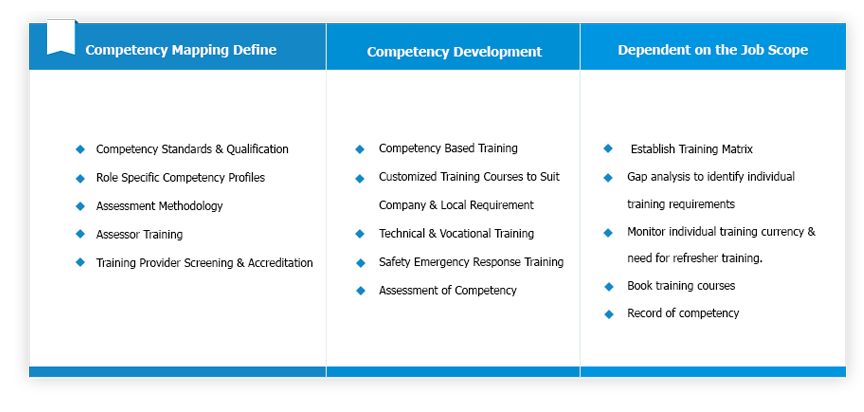 The Competency Mapping
The result of effective competency mapping and management will enable our partners to develop and design internal control processes and ensure that employees have the required skills, knowledge and experience to perform their duties competently in their particular work environment.
Key Components of a Competency Management
Competence Profiling
Constructing Standards
Assessment Services
Human Resource Linkages
Competence Profiling
Competence profiling identifies the skills, knowledge & attributes that, when applied, lead to excellent performance on the job. Typically, these competencies can be grouped and integrated with each other into three key areas:

HR Linkages
Competence Assurance Management System (CAMS) provides integrated solutions within an HR framework and responsibilities. It enables the HR personnel department to identify specific training needs and requirements in each discipline as shown in the diagram below: GENCE Competency Assurance Software.
GENCE qualified and experienced IT engineers together with competency assurance consultants have developed a customized (CAMS solution)® 5.0 software system which plans, organizes, and stores the information gathered, accelerates the information entry process and eliminate any paper work during the initial and final stages of implementation.
The software system enables the training coordinators, managers, training assessors and most importantly the staff themselves to create a specific profile for each of them with ability to monitor and track their training and development plan history and provide specific and targeted needs and requirements to fill their gap analysis.minate any deficiencies.
Competency assurance
The model below represents GENCE approach to assessment of competency for the purposes of competency. Competency assessment may also be used as part of a wider learning and development, professional progression and career and succession planning framework. This being the case, simplified assessment models may be more appropriate. Examples of our assessment solutions capability include:
Customised development of an assessment process which delivers organisational needs and requirements (assurance versus development). Customised development of assessment resources, including Common Assessment Tasks, Assessment Guidelines, and resources for both those undergoing and undertaking assessment.
Training of workplace assessors and training providers in the provision of workplace assessment give organizations important resources to implement CAMS without external assistance or expertise. Provision of workplace assessment services using GENCE team of registered and accredited workplace assessors.
Assessment and Training Solutions
GENCE extensive experience and achievements in designing and developing prescriptive and comprehensive assessment resources solutions will enable your organization to strengthen and maximize the competency level, skills and experience of your staff.
GENCE assessment solutions reflect the technical specifications of the competency standards against which performance is to be measured. Our unique techniques and methods will ensure that workplace assessors and training providers apply a consistent approach to assessment and that consistent outcomes are produced.
The nature and process of competency assessment will vary depending on the purpose of the assessment. Technical and HSE-critical competency require a robust and transparent assessment process that provides organizations with specialized and specific requirements.
Assessor's Training Certificate
GENCE training philosophy and policy are based on strong emphasis and recognition that in today's industry, training forms an integral part of the company's operations. Therefore, the correct identification of training standards and training needs, plus the implementation of the appropriate competency training programs, form a significant contribution to improving overall efficiency and maintaining safety standards.
GENCE CAMS objectives are to ensure all our partners in business regardless of their levels and positions receive the necessary and specific competency programs in management, behavioural and technical disciplines in order to:
Obtain the relevant knowledge, motivation and skills required to manage safely;
Obtain the relevant knowledge and skills to perform their jobs to the required standards;
Update and maintain personnel needs with regard to statutory industry training requirements;
Implement appropriate staff training programs;
Maintain overall efficiency while achieving the required safety standards
GENCE is also committed to the setting and implementation of training standards through our membership and involvement with the following establishments:
Global Safety Standard (GSS) by Marine and Offshore Limited (M&O) Offshore Petroleum Industry Training Organisation (OPITO) National Vocation Qualification (NVQs) Scottish Vocational Qualification (SVQs) General Certificate of Education (GCSEs) General National Vocation Qualification (GNVQs)